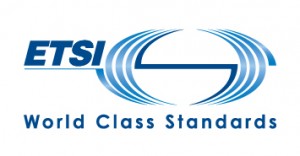 The ETSI IoT Week, the evolution of our highly successful M2M/IoT Workshop series, has become the must-attend event for anyone involved in IoT and who appreciates the value of standards-enabled technologies and deployments.
This year's edition of the ETSI IoT Week is taking place on 22 – 26 October 2018 in ETSI in Sophia-Antipolis – http://www.etsi.org/iotweek  
Standards managers and technical developers, product developers, solution adopters, researchers and users in the IoT area, will benefit from an up-to-date overview of major European and global trends of IoT deployment and standardization.
With an attendance of over 200 participants, the ETSI IoT week is an excellent occasion to network with other IoT stakeholders and actively contribute to the shaping of future IoT solutions and standards.
Attendance to the event is open to all and free of charge upon registration. Registration will open in July 2018.
The ETSI IoT Week will include the following series of events:
22 October:

oneM2M Developers' Tutorial
IoT Security and Privacy Pre-event
IoT Workshop
Showcase Demonstrations
Call for Presentations and for Showcases:
We are currently calling for Presentations and Showcases. Proposals to speak or run a showcase should be sent to events@etsi.org by 15 June 2018.
Call for Presentations:
Areas of interest include (but are not limited to) the following topics:
Experiences from IoT service implementations including service in operation, pre-commercial pilots, innovation and research developments (e.g. the EU Large Scale Pilots). Smart Cities, Industrial and Manufacturer Applications, Smart Agriculture, Wearables/Body Area Networks Aging Well, Smart Energy, Smart Appliances, Cooperative and Connected Mobility, etc.
Any research activity in the area of semantic and ontology-based interoperability
Security and privacy in IoT, starting from oneM2M and SAREF related aspects
Impact on IoT standards of Virtualization, Cloud and Edge Computing
AI and IoT standards
Feedback from major associations (e.g. AIOTI, IIC, Industry 4.0, W3C WoT, etc.)
Feedback from oneM2M implementations around the globe
Standards updates on IoT enabling communication technologies (e.g. NB-IoT, 5G, LORA, etc.)
Call for oneM2M Showcases:
Showcases shall be based on oneM2M standard and potentially SAREF, including products and demo solutions. Areas of interest include (but are not limited to) the following topics:
Smart Cities
Industrial and Manufacturer Applications
Home and Smart Appliances
Smart agriculture and Automotive
Wearables/Body Area Networks
Smart Energy and Environment
IoT Security and Privacy
The Programme Committee will build the agenda over the summer. The final and detailed programme will be online by the end of August 2018.