Telecom Valley's m-Tourism Group led by Jean-Bernard Titz (Dev-Help)
organizes the 7th International m-Tourism Day in partnership with CCI Nice Côte d'Azur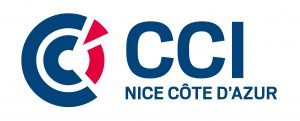 Tuesday, October 10th
Internet of Thing for Tourism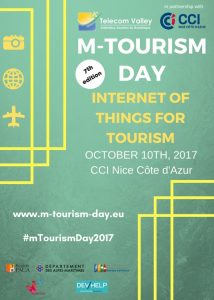 [su_button url= »https://www.eventbrite.fr/e/billets-journee-internationale-du-m-tourisme-2017-37452848478″ target= »blank » style= »flat » background= »#2256a6″ color= »#ffffff » size= »10″ radius= »0″ icon= »icon: sign-in » text_shadow= »0px 0px 0px #d9b400″]Registration[/su_button]
  

Free and mandatory registration before October 6th 2017
The following program is subject to changes
[su_tabs active= »1″][su_tab title= »Program« ]
[agenda]
[day date= »10 octobre 2017 »]International m-Tourism Day 2017[/day]
[event time= »8:30 – 9:00″]Welcome[/event]
[event time= »9:00 – 9:10″]Opening speech by Jean-Pierre SAVARINO, President of the CCI Nice Côte d'Azur [/event]
[event time= »9:15 – 9:30″]Introduction by Jean-Bernard TITZ, organizer of the  m-Tourisme commission at Telecom Valley [/event]
[event time= »9:30 – 11:30″]IoT and tourism projects' feedbacks
Patrick DUVERGER, IT and logistics director in the city of Antibes
> IoT and tourism projects made in Antibes
Michel RUBINO, President of Cartesiam
> Embedded AI captors and analysors usage
Grégoire CHAILLEUX, Directeur de 9b+
> Mobile application called « Archistoire » for (re)discovering the city of Toulon (department: Var, France)
Laurent GAUME, Valorisation director at EasyGlobaMarket
> Presentation of Wise IoT, a project used in ski stations [/event]
[event time= »11:30 – 12:00″]Special guest : Delegation from the city of Turin, Italy, by Paola PISANO, Deputy mayor of Turin, and introduction of the cluster called IoTorino[/event]
[event time= »12:00 – 12:20″]Stands presentation[/event]
[event time= »12:30 – 13:30″]Lunch break and stands' initiation [/event]
[event time= »13:30 – 14:00″]Rosa PARADELL, Business Unit Manager at i2CAT Foundation
> Presentation of IoT projects made in Catalonia in Spain[/event]
[event time= »14:00 – 15:30″]Round Table IoT for Tourism
Samih ABID, Lawyer and  supervisor in Cabinet ABID AVOCATS
Alessandro BASSI, President of IOT Italy and IoT specialist
Michel CHEVILLON, Vice-Chairman of the CCI Nice Côte d'Azur
Vangalis PANAYOTIS, Advisor at Cabinet MKG
Jean-David COLLARD, Cikiu project manager
Julien CLAUSSE, Head of "Moonshot Innovation" at Amadeus
Laurence BOTTERO, Editor-in-chief at La Tribune PACA (animator)
[/event]
[event time= »15:30 – 16:50″] Europe Focus
15h30 – 15h50 : Pascal MALOSSE, EEN project manager at the CCI Nice Côte d'Azur
> European projects' financing
15h50 – 16h10: Gaëtan REY, senior lecturer at Université Nice Sophia-Antipolis and Florence GARELLI
> ERASMUS IOT4SME's project
16h10 – 16h30 : Jean-Bernard TITZ, France representative at the European Comitee Eureka Tourism+
> Tourism innovative projects' financing systems
16h30 – 16h50 : Nadège BOUGET, European project manager at the CCI Nice Côte d'Azur
> RETIC project
[/event]
[event time= »16:50- 17:20″]Grand Témoin Conference: Nadine TOURNOIS, Director of IAE in Nice [/event]
[event time= »17:20 – 17:30″]Animations / activities (Quizz on IoT, Tweet contest)[/event]
[event time= »17:30 – 18:00″]Closing speech by Jennifer SALLES BARBOSA , Président of the Tourism commission in PACA Région[/event]
[/agenda]
[/su_tab]
[su_tab title= »Speakers« ]
 
 Samih ABID

Director and lawyer in the law firm ABID AVOCATS who intervenes in the field of the Law of New Technologies, Innovation, Intellectual Property, Taxation and Business. Teacher at the University of Nice Sophia Antipolis in the fields of ICT Law (New Information and Communication Technologies), Taxation, Risk Management and Information Patrimony. In more than ten years, ABID AVOCATS has advised and supported as many SMEs, international companies as Start-up, engineers, musicians and designers. The permanent legal watch carried out by the entire team, makes the firm ABID AVOCATS a firm with recognized competence and at the forefront of innovation. A member of the association Telecom Vallet, ABID AVOCATS is responsible for the legal coaching mission, in the context of the Challenge Jeunes Pousses competition, aiming at supporting students, brought together in a multidisciplinary team, when developing their idea of innovative enterprises.

 
Patrick DUVERGER

A graduate of Arts et Métiers (94) and Supélec (96), Patrick Duverger is a DSI and General Manager of the City of Antibes. In 2016, as a public sector DSI of the year, he helped establish numerous innovation partnerships between Antibes and the Sophia Antipolis science park. Responsible for the public service delegations of the network operators on the territory of Antibes it also made it possible to obtain the price of the cheapest water in France. Prior to that, he was responsible, at HP, for the European SOA (oriented architecture service) competence center. Previously, he was project manager for the development of connectivity modules for HP OpenView SLM (service level management) solution and responsible for the TeMIP kernel, Telco network supervision software from Digital Equipment. He began his career as a research engineer at Orange Labs.

 

Vanguélis PANAYOTIS

He studied at the Glion Hotel Management School, obtaining a Bachelor Degree in Hospitality and Tourism Management and a Bachelor of Science Degree in International Hospitality Management, Wales University in the United Kingdom. After several experiences in operational management within the Hilton, Accor and Holiday Inn groups, he joined the MKG Group in 2001. He first took responsibility for various internal and cross-functional projects such as the implementation of business tools to enable the development of the group. He then joined the consulting teams and participated in the main missions entrusted to MKG. Today Vanguelis Panayotis is in charge of the overall development of the activities of MKG Group. For 3 years, Vanguelis Panayotis also taught at the Hotel Management Institute of Vatel in Paris and regularly speaks at conferences on the hotel and tourism sectors and their perspectives. Finally, Vanguélis Panayotis has supported the development of the group in the development of its analytical tools and operational marketing tools: Olakala Suite.

 
Alessandro BASSI

Alessandro Bassi received his doctorate in computer science from the University of Milan in 1994. After international experience (Amadeus, University of Tennessee, Ecole Normale Supérieure de Lyon, RIPE NCC), he joined Hitachi Europe in November 2004 to concentrate on the integration of autonomous properties in ad hoc networks, the distribution of data in high-performance networks, RFID technologies and, more broadly, the IoT. Since August 2010 he is an independent consultant, working on technological subjects related to the Internet of Objects and the Cloud. He was Deputy Coordinator of the EU FP5 project « 6QM », coordinator of the FP7 project « Autonomic Internet », and technical coordinator of the flagship project on the internet of objects in the 7th Framework Program « Internet of Things – Architecture (IoT-A), a member of the group that drafted the strategic Internet research program of the future, and was one of the experts called by the European Commission (2010-2012) to write white papers used by the Parliament to understand the phenomenon of IoT. He is the co-author of 2 books (« Enabling Things to Talk » and « Designing, Developing, and Facilitating Smart Cities »).

 

 Laurence BOTTERO

Laurence Bottero, a journalist specializing in economics, is the editor-in-chief of the regional office of La Tribune, the national economic daily, the first media of metropolises.

Jean-Bernard TITZ

After 21 years in various positions at IBM France, from IT project manager to Agency Director and Associated Partner in Business Consulting, Jean-Bernard Titz set up his own firm, Dev-Help, specialized in supporting digital SMEs with the digital transformation of enterprises. Member in the board of directors of several digital associations, he makes its large network available to SMEs for the search for commercial or technological partners. The Tourism@ Awards 2008 (500 p) gave him the opportunity to reconcile technological innovation with the tourism industry with the Telecom Valley Tourism Commission and the cluster « Eureka Tourism + » where he represents France to the European Executive Committee.

 

 
 Michel CHEVILLON

After a Bachelor's Degree in Applied Languages at the University of Nice and a General Manager Certificate in Holiday Inn International at Memphis Tennessee University in the USA, Michel Chevillon held various positions as Head of Service within the Holiday Inn International hotel group and was successful to various sub-management or hotel management positions. He then became general manager of sales at PULLMAN / Sofitel. Since 2003, he is manager of the beach Croisette Beach in Cannes. President of the Hoteliers' Union of Cannes and the Cannes basin since April 2002, he is also elected to the CCI Nice Côte d'Azur vice-president in charge of tourism, elected by the CCI region PACA and chairman of the Tourism Committee. Finally, the years 2005 and 2007 represent years of success for Michel Chevillon as he obtained the ROTARY Club Centennial Professional Award, the National Silver Tourism Medal and the Cannes City Gold Medal.

 

Pascal MALOSSE

A lawyer by training, Pascal Malosse has specialized in business support programs and European Union legislation for the last ten years. He has designed and planned a number of research and development projects in Germany and Poland on behalf of foreign companies. Today, he is a member of the Enterprise Europe Network, hosted by the PACA Chamber of Commerce in Sophia Antipolis, he actively supports companies in the region in their search for partners in Europe and their innovative projects.

 
Gaëtan REY

Gaëtan Rey graduated Doctor of Computer Science from Grenoble University Joseph Fourier in 2005. Teacher and researcher in computer science, he is a lecturer at Nice Sophia Antipolis University in the IT department of IUT Nice Côte d'Azur since December 2007. Also member of the Board of Directors of the Computer Society of France since January 2011. He is a member of the SPARKS team at I3S laboratory. These research specialties are: computer science, computer / ambient intelligence, adaptation to the context, the Internet of objects the middleware and the human machine interaction.

 

Michel RUBINO

Chairman of Cartesiam, founded in 2016 with Joël Rubino and François de Rochebouet, Michel Rubino was previously CEO of a subsidiary of EDF in the photovoltaic sector. He spent most of his career leading a large distribution company. Marketing, sales and the management of new technologies represent the three founding values of Cartesiam. The aim is to develop connected products, equipped with sensors / analyzers based on embedded artificial intelligence. A notable example: a connected carpet that automatically communicates its results to a dashboard. It analyzes the flows of passage in a dedicated place, interesting therefore for organizers of events, hotel residences, municipalities, catering and so on. It was tested (and approved) by the French Tennis Federation during the last tournament of « Roland Garros ».

 

Laurent GAUME

Laurent has built most of his experience in the ICT (Information and Communication Technologies) domain and more recently in the fields of LTE, LPWAN and Internet of Things. He is currently in charge of marketing Easy Global Market's Products and Engineering Expertise resulting from 10 years of advanced R&D projects focusing on the IoT and its applications to a variety of Industries (Water, Mountain, City). Laurent holds a Master in Business Administration from Theseus-EDHEC Business School and an Engineering degree in Electronics and Radio technologies from ENSEIRB.

 

Nadège BOUGET

Nadège Bouget has more than 10 years experience in project management and in particular European projects. Themes: clusters and clusters of competitiveness, internationalization, support for companies. Nadège is familiar with the local, national and European ecosystems in the field of innovation and SMEs. She joined the Nice Côte d'Azur Chamber of Commerce and Industry 1 year ago, as an animator for the Digital Network. Nadège has a master's degree in project management.

Jean-David COLLARD

A graduate of Arts et Métiers ParisTech (2011), Jean-David Collard is co-founder and president of Angels Bay Tech (ABTech), specializing in the creation of e-collaborative solutions. ABTech also offers its expertise in the field of services and advice in the field of digital projects and IoT. Its activity evolves in the context of tourism, security, digital art, events and collaborative economics; it is strongly focused on research and innovation with a multi-skilled expertise in software development, Internet of Objects, Virtual Reality and Big Data. Jean-David Collard is also the winner of the CiKiu winner Hackaton-WHAT-2016 and the Sophia-Antipolis 2017 Trophée-des-objets-connectés, winning the IBM Prize, Women's Choice Award and Design Prize . CiKiu is an innovative alert management service that aims to facilitate the creation of self-help communities capable of organizing themselves to respond effectively to distress situations. Jean-David Collard began his career as an entrepreneur in the field of IoT applied to agriculture, events and the environment; then he was project manager at Azuriel Technologies' digital factory (currently Altersis) and head of the R & D center at Adipsys, a telecom network management software company.

 

Julien CLAUSSE

Julien Clausse has almost 20 years' experience, from engineering to business, marketing, strategy and innovation. Julien has been leading strategic designs as well as implementations of these designs for several products and divisions. He began his career in engineering with software architect and project leader roles at Siemens VDO and Continental – including responsibility of the complete telephony applications for BMW's iDrive and VW RNS. Julien was then in charge of strategic marketing for several products and services, including mobile navigation and service aggregation for Siemens, and connected home for M2M by Altran. At that point, he was appointed Global Head of Strategic Marketing for Altran's global division dedicated to IoT and Big Data. He is now heading Moonshot Innovation at Amadeus, a department bootstrapping and exploring disruptive innovation with strong potential impact and very high uncertainties for the travel industry. He is also teaching Storytelling to PhDs at Mines Paristech, and Creativity to MSc students at SKEMA Business School.

Jennifer SALLES-BARBOSA

A lawyer by profession, Jennifer opened her own firm in September 2014. She is a member of the departmental office of the New Center and national secretary of the IDU in charge of access to the law. Regional Adviser since December 2015 and President of the Tourism Commission in the Provence Alpes Côte d'Azur region since 16 January 2016. She is also Vice-President of the Regional Committee of Tourism PACA and Vice-President of the Regional Committee of Tourism Côte d'Azur.

Isart Canyameres

Isart Canyameres holds a Masters Degree in Innovation Management. He graduated on Informatics Engineering at Barcelona School of Informatics (FIB) at UPC. At i2CAT Foundation, he is a member of the Smart Regions and IoT Innovation Business Unit, where he actively looks for collaborations where i2CAT can offer added value to embrace smart technologies and processes. He is also involved in the dynamization and management of some initiatives under the umbrella of the SmartCAT strategy of the Government of Catalonia.
In his previous position as a Software Engineer, he contributed to IoT and Smart Cities projects by integrating different components in smart city platforms. He has also 's been involved in several regional, national and European projects related to network virtualization and infrastructure as a service (IaaS).

 Jean-Pierre SAVARINO

President of the Nice-Côte d'Azur Chamber of Commerce and Industry, as well as Vice-President of the Regional Chamber of Commerce and Industry, President of SAS Vauban 21 and Gallice 21 and Chairman and CEO of the STUDIEL group, located in France and abroad since more than 25 years. He is also a founding member of the competitiveness clusters Mer, Secure Communicating Solutions, Optitec, and Pégase PACA.

Grégoire CHAILLEUX

A telecommunications engineer by training, Grégoire has evolved over the last 15 years in the world of digital and innovation. In 2009, he founded 9b +, a creative agency dedicated to tourism and cultural projects. The agency carries out strategic studies and design missions for museums, collectivities, cultural organizations, industrial sites, private operators, etc. Bridging the architectural, design, digital and engineering trades, 9b + has developed a unique expertise in the user experience « In Real Life », the real signature of the agency. Involved in all the projects of the agency he runs, Grégoire is positioning itself as a leading player in innovation in the tourism, culture and museum sectors, and digital.

 
Paola PISANO

Paola Pisano is the Deputy Mayor for Innovation, Smart City, Demographic and Statistical Services and Information Systems of the City of Torino. She holds a PhD in Business Administration and she is Professor of Innovation Management at the University of Torino. Director of the Multidisciplinary Centre for Technological Innovation (ICxT) of the University of Torino since 2014, she is also President of the Torino Smart City Foundation, Representative for the City of Torino in the incubator of the Politecnico di Torino (I3P – 5th European incubator) and in the Torino Wireless Technological Cluster. She has been visiting lecturer at GCU (Glasgow Caledonian University) London and at the University of Westminster and she has published more than 70 papers on the subject of innovation and business models.

Nadine TOURNOIS

Professor of Universities, Nadine Tournois is now Director of the IAE of Nice. After working in the high-tech industry, she joined the University of Nice Sophia Antipolis, where she became Senior Vice President in 2004, and in 2009 she joined the Rectorate of the Nice Academy to become Director of the  » Higher Education and Research until 2013. Specialized in banking marketing and international management, she has published numerous articles and books and supervised many doctoral theses. She teaches and teaches at many foreign universities (Haas Business School of the University of Berkeley, Shanghai Jiao Tong University, Virginia Commonwealth University, Ohm University of Nuremberg, San Francisco State University, Da'Nang University, etc.).
[su_tab title= »Accessibilité« ][/su_tab]
Plan d'accès :
[su_gmap width= »400″ address= »CCI Nice Côte d'Azur – Site de Nice, 20 Boulevard Carabacel, 06000 Nice »]
Parking :
Parking Marshall – Pl. du Général Georges Marshall, 06000 Nice
[su_gmap width= »400″ address= »Parking Marshall – Pl. du Général Georges Marshall, 06000 Nice »]
[/one_half]
Transports :
Venir depuis l'aéroport Venir depuis la gare SNCF
Lignes de bus (réseau Lignes d'Azur) :
Arrêt Carabacel : Ligne 15
Arrêt Défly : Lignes 3, 4,  7, 9, 15, 17, 22 .
Arrêt Hôpital Saint-Roch : Lignes 3, 4,  7, 9, 15, 22, 27
Arrêt Delille : Ligne 27
Tram: Arrêt Acropolis
[/su_tab][/su_tabs]
About the event
This Group, active all year long through its monthly meetings between members and partners of the association (both specialized in tourism and digital technology), focuses mainly on m-tourism projects studies, conferences, collaborative projects planning.
Main event organized by this Group, the International m-Tourism Day deals every year with an up-to-date topic, involving tourism and innovation.
This day displays a series of feedbacks, international projects presentations, and a roundtable composed of well-known public and private actors.
Previous editions
2016 edition – « Digital Revolution and Collaborative Tourism »
2015 edition – « Big Data for Tourism »
2014 edition – « ICT and Coastal Tourism »
2013 edition – « Smart Tourism and ICT »
2012 edition – « Open Data, ICT and Tourism »
2011 edition – « Sustainable Tourism and ICT »
Partners