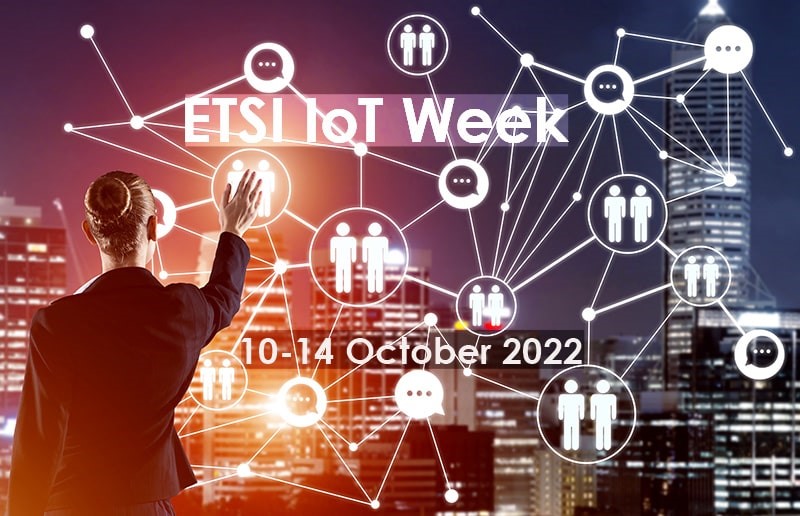 The 2022 edition of the ETSI IoT Week, "Pursuing Digital and Green Transformation", will take place on 10-14 October 2022 in ETSI, Sophia Antipolis, France – www.etsi.org/iotweek. Save the date!
 This gathering of IoT experts has become the must attend event for anyone involved in IoT and who understands the importance of standard-enabled technologies for IoT service deployments.
 The ETSI IoT Week will offer an up-to-date overview of the major European and global trends in IoT services, technology innovations, deployments, and the relevant standardization work.
 The event aims at keeping the community up to date with the latest developments in IoT Technologies and standards, highlighting new initiatives and directions of IoT in the context of green and digital transformation.
The event will be of particular interest to organizations and stakeholders (including verticals) interested in the service and operational areas of IoT: industry, SMEs, R&D and academia, decision and policy makers, users of the IoT standards such as cities, governments, and societal actors.
The ETSI IoT Week will consist of the following series of events: a tutorial on ontologies and semantic interoperability on 10 October, the IoT Workshop on 11-14 October with demonstrations on 11-13 October.
The 2022 edition will focus on:
IoT technologies and innovations (semantics and ontologies, digital twins, IoT and edge, IoT and AI among others);
IoT for a better life, including digital and green transformation and eHealth;
Horizontal ETSI IoT standards for the vertical business sectors.
 Call for Presentations and Demonstrations Now Open:
The Programme Committee is currently calling for presentations and demonstrations.
Please check the list of topics of interest and submission process on the ETSI IoT Week web site, and submit your proposals to speak and/or to run a demonstration by 20 June 2022.
A stable programme should be available by the end of July 2022.